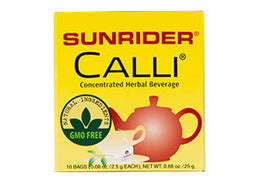 60 bags (0.08 oz./2.5 g each bag)
Calli tea, made with unique herbal extracts, assists in the body's natural cleansing processes. It is an all-natural replacement for coffee and tea, which have excess caffeine. It is made with food grade herbs.Calli tea does not contain added sugars, artificial sweeteners or chemicals.
Catechins are naturally occurring polyphenols (plant chemicals) found in Camellia sinensis (green tea), the primary ingredient in Calli (and Fortune Delight). These natural antioxidants have been shown to be effective in absorbing damaging free radicals that contribute to premature aging.

Calli Tea is available in 10 pack & 60 pack boxes
Calli Tea is available in the following flavors:
For a good night's sleep, or to relax under stress, TRY CALLI NIGHT.
"I noticed that as I drank Calli tea all day at work, my clarity of thought improved dramatically and over a period of several months, my healthy lifestyle resulted in my adult acne no longer being a problem. My energy also improved."*